This guide will help you build and publish a
Learning Track
within Continu.
Step One: Navigate to the Admin tab in Continu. Find to +Add Content button and click it. Select Track from the options to begin creating a new Learning Track.
Note: If you have integrations with LinkedIn Learning or Udemy, you will select Courses, then select Track from the available options.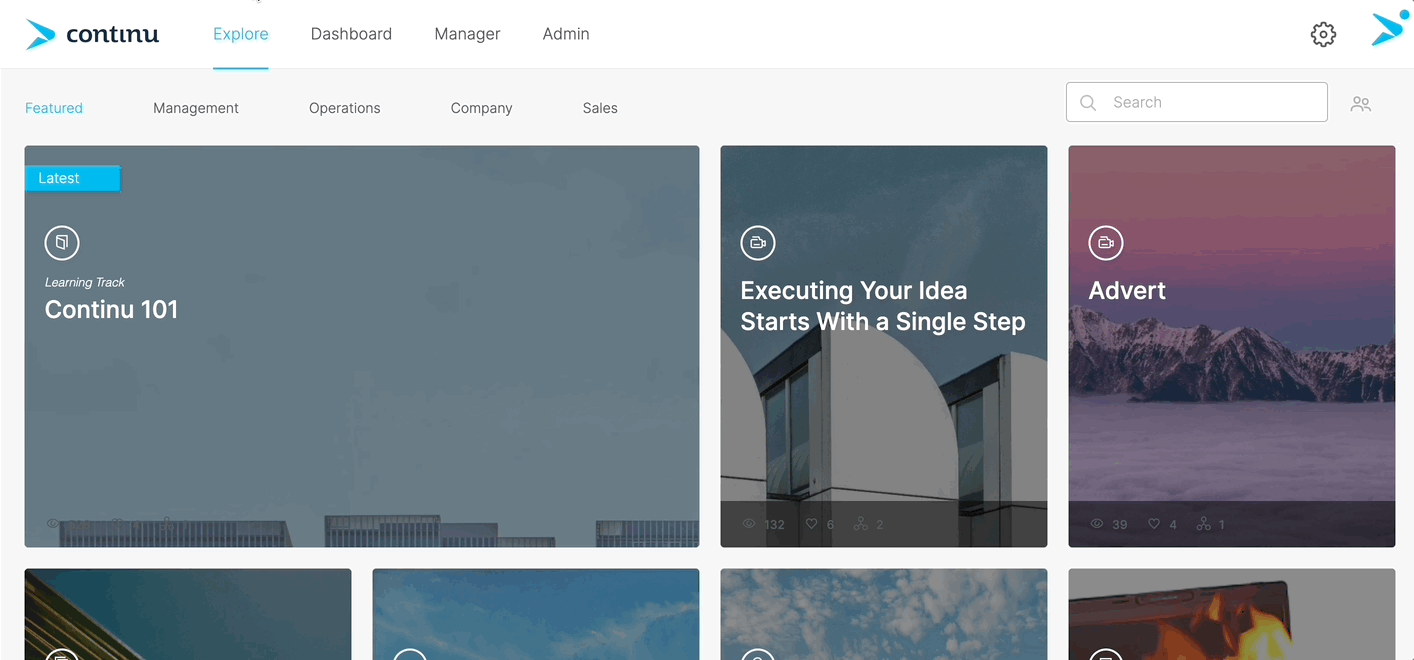 Step Two: Add the Track Title and Description

Step Three: Add in any necessary tags and what the user will be learning within this track. (Both sections are optional)
Step Four: Add an instructor image (optional), Name, and Bio.

Instructor/Avatar Images:
squared image size (200x 200 pixel dimensions)
.png file format (will replicate and load accurately for all internet connections)
Step Five: Add notes on who users can contact with questions in the Instructor Notes section. You can also provide links to the Instructor's contact and social media information if you'd like users to be able to easily reach out to the instructor. Press Next to move on to adding Content.

Step Six: From the Content menu, you can add content to your learning track. You can also divide your content into sections. Start by adding your first Section title and description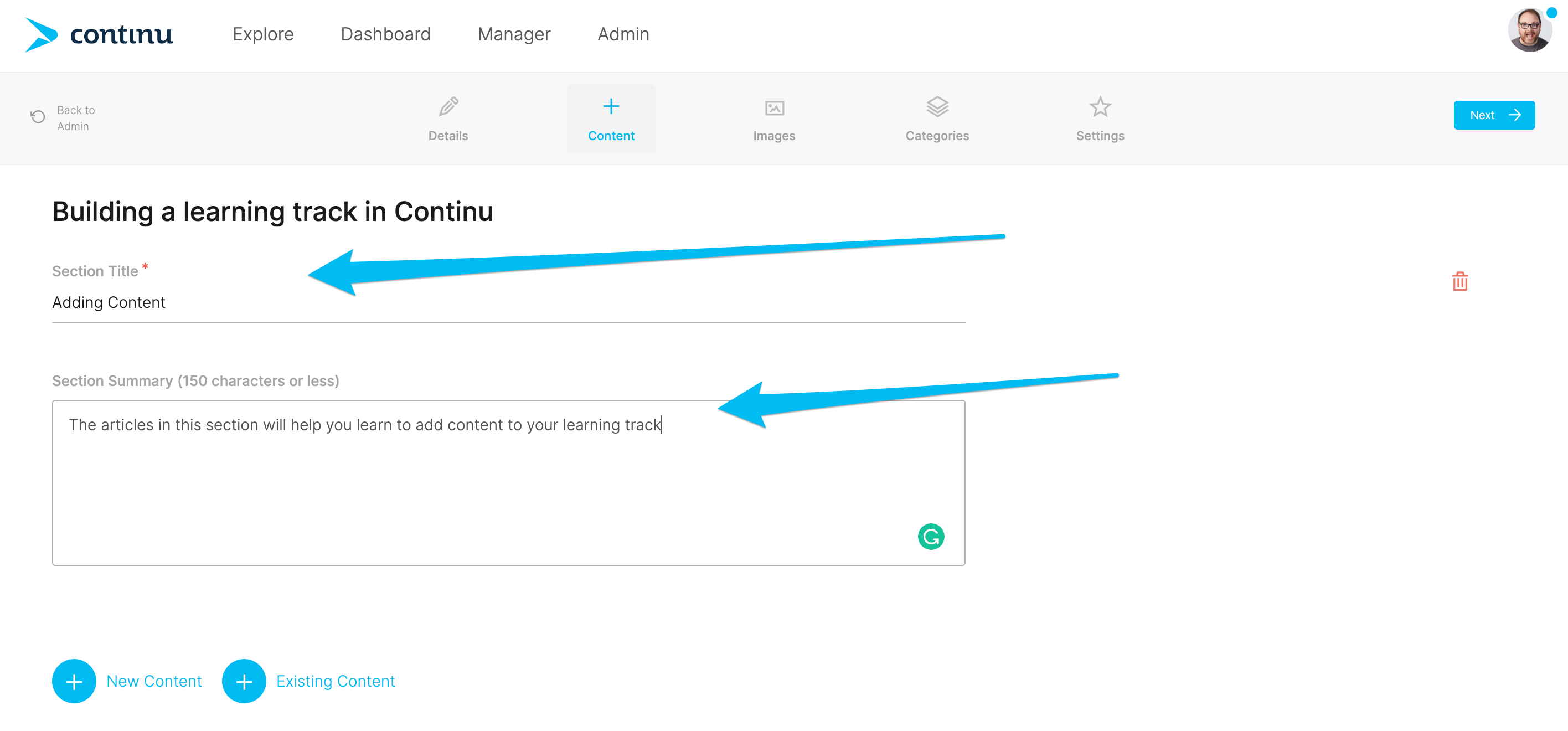 Step Seven: In each section, you can add Content. You can either create new Content as you build your learning track, or you can attach content already stored within Continu.
To create new content, press the +New Content button, then choose the type of content you'd like to create. This will open a new window to create the content. Once the content is saved, you will be taken back to the Learning Track to continue adding content to the track.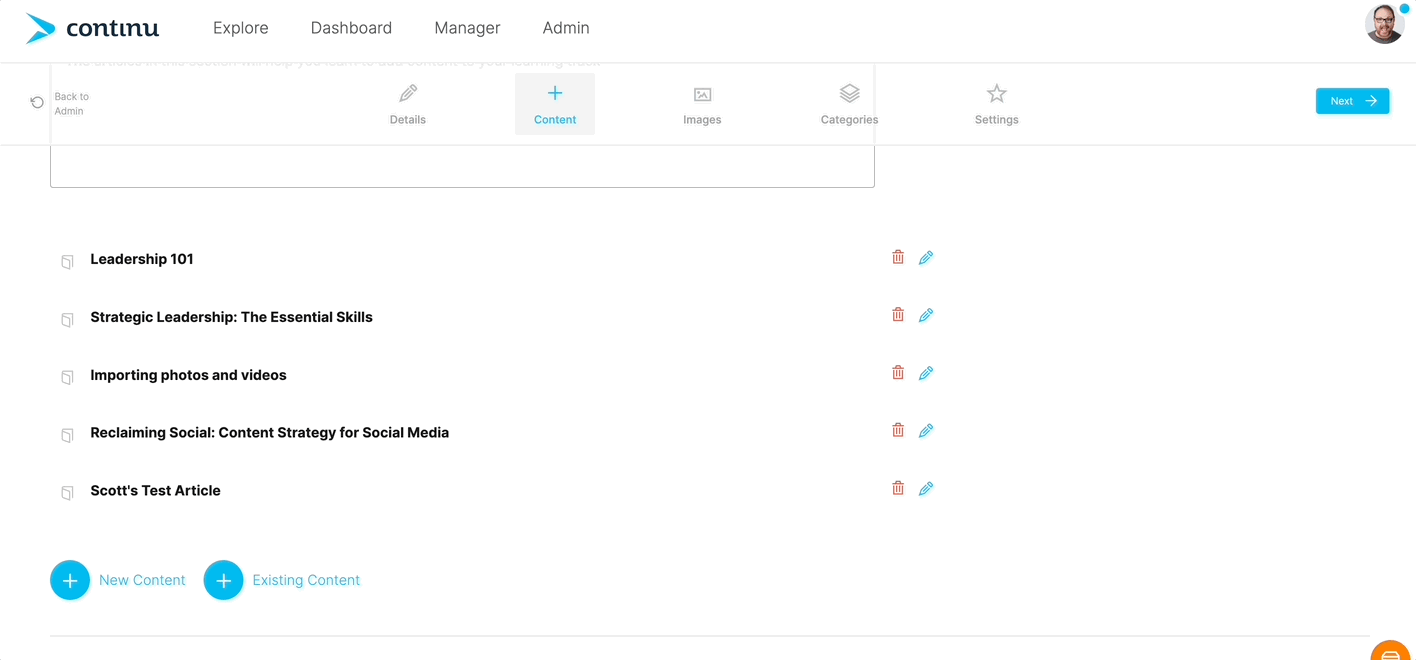 Note: You cannot put external courses from LinkedIn or Udemy into learning tracks.
To add content already stored within Continu, press the +Add Existing Content button. A search bar will pop up. You can search for the name of the content you'd like to add from the search bar. The results will be sorted by content type. Select the content you would like from the drop-down list to add it to your track.
You can continue searching for all the content you would like to add to this section. Once you're done selecting content, press Add at the bottom of the pop-up to add the content to your learning track.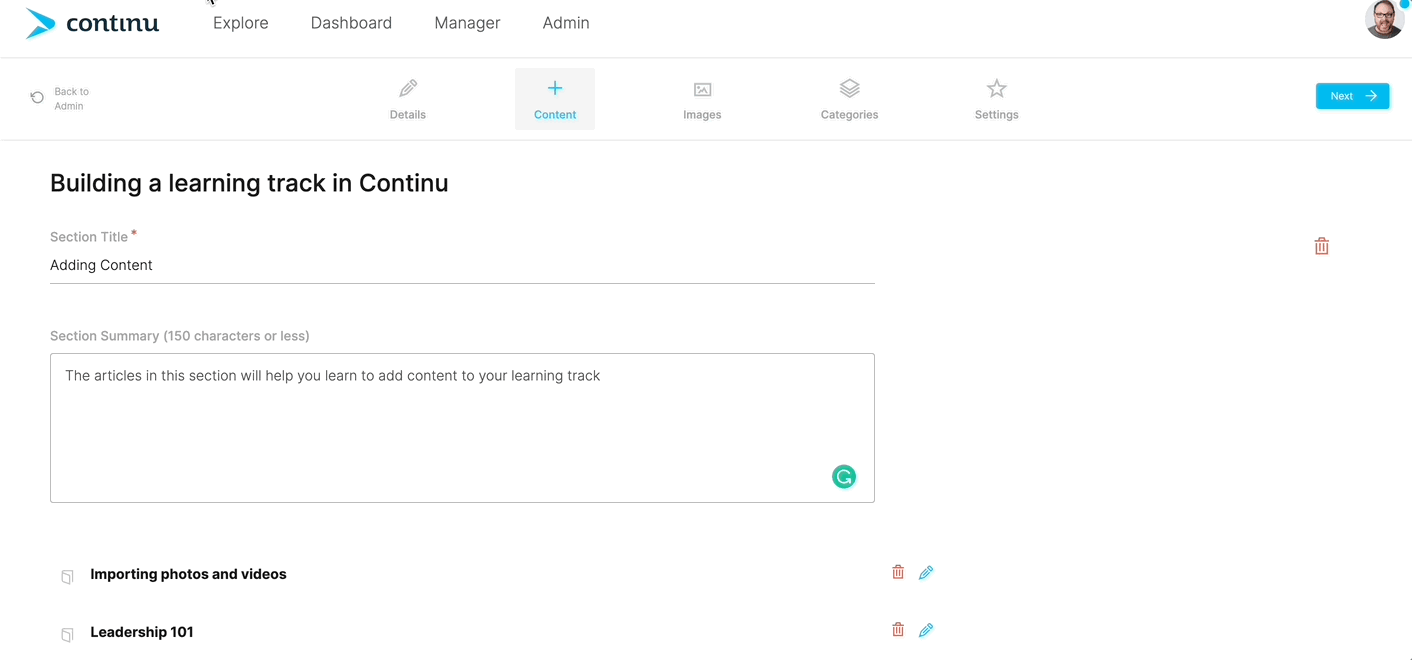 You can re-order content within a section by hovering over the content and then pressing and holding the drag-and-drop icon. Move the content to the order you'd like your users to see it.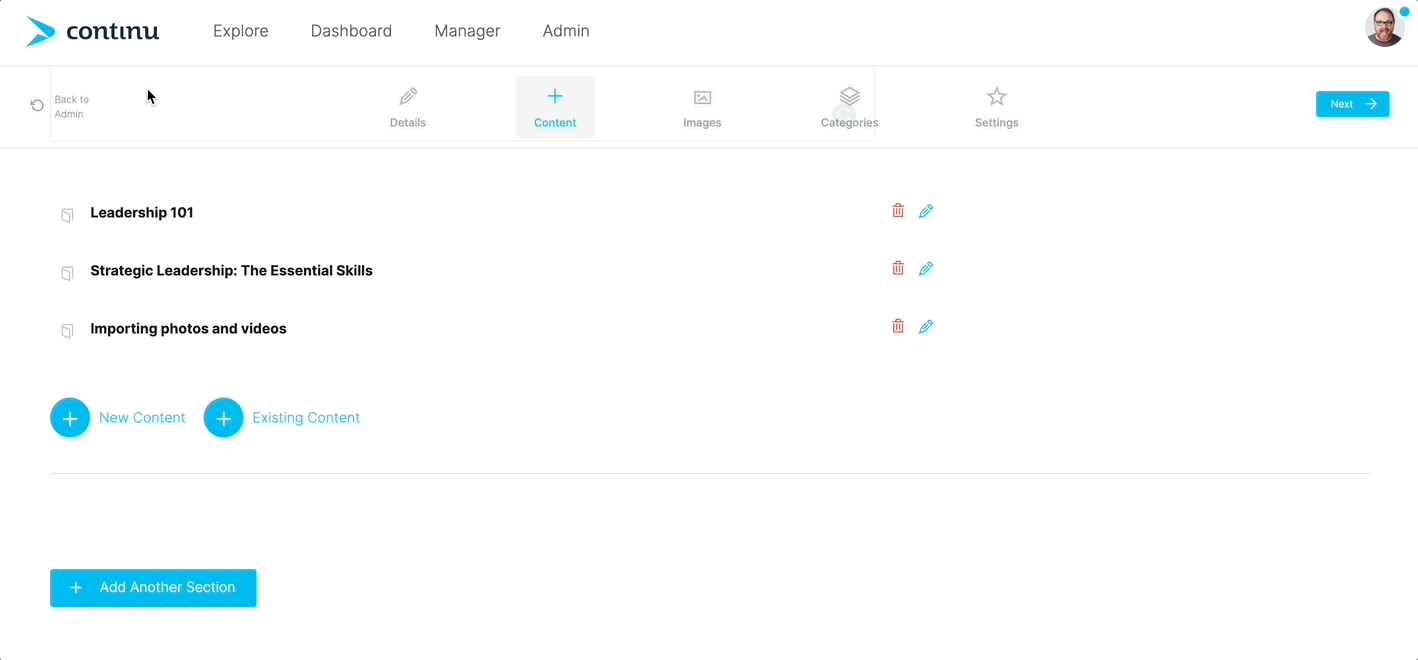 Note: In order to track assessments in learning tracks, Continu automatically generates a duplicate of any existing assessment added to a learning track. If you do not want a duplicate assessment, Continu recommends building the assessment directly in the learning track.
Step Eight: If you would like to have multiple sections in your Learning Track, click the Add Another Section button to add more sections to your track. Repeat the process above for each section added.

Step Nine: Add Banner and Cover images to your Track. See Banner and Cover Images: Photo Editor and Best Practices for instructions on adding images.
Step Ten: Select the categories the Track needs to be associated to
Step Eleven: Edit your settings. See Editing your Settings for more information on the Settings Menu.
Step Twelve: When you're ready you can press Create to save and publish your learning track.