About Zoom
Zoom is the leader in modern enterprise video communications, with an easy, reliable cloud platform for video and audio conferencing, collaboration, chat, and webinars across mobile devices, desktops, telephones, and room systems. Zoom Rooms is the original software-based conference room solution used around the world in board, conference, huddle, and training rooms, as well as executive offices and classrooms. Founded in 2011, Zoom helps businesses and organizations bring their teams together in a frictionless environment to get more done. Zoom is a publicly-traded company on Nasdaq (ticker: ZM) and headquartered in San Jose, California.
Installing Zoom for Continu
To install Zoom for Continu, you'll need to be a Continu Administrator. If you are not an Administrator, please contact your Continu Administrator for support. Once signed in as an Administrator, follow the steps below to enable Zoom for Continu:
1. Select the Admin>Integrations option from the Navigation Panel.
2. When in the Integrations area, navigate to the Zoom Application and select it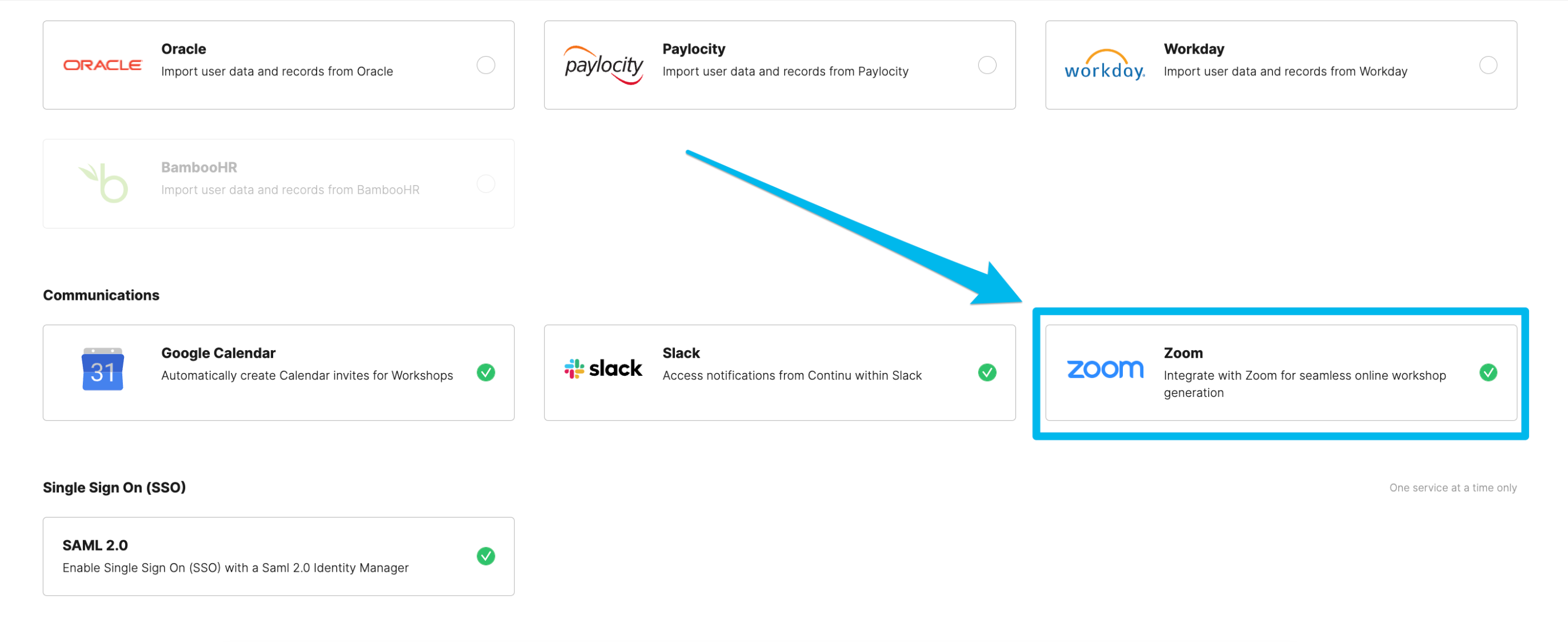 3. Once in the Zoom area, click the "Enable Zoom" button
4. You'll be asked to authorize Continu to access Zoom
5. Your Zoom for Continu setup is now complete

Deactivating Zoom
If you'd like to deactivate Zoom for Continu, please follow the instruction below:
Login to your Zoom account and navigate to the Zoom App Marketplace.

Click Manage > Installed Apps or search for the

Continu

app.

Click the

Continu

app.

Click Disable.
Troubleshooting
For troubleshooting assistance, please contact your Continu Administrator or reach out to Continu's Support Team.
FAQs
Below are some frequently asked questions about the Zoom for Continu Integration.
Why can't I see 'Settings' in Admin?
If you don't have access to the Settings area, you will need to have your permission upgraded to an Administrator on Continu. Please contact your Continu administrator to enable Administrator privileges.
We don't have a Zoom Business Account, is that ok?
You will need to have both a Continu and Zoom account for this integration to be enabled. You can create a free Zoom account by visiting the
Zoom Website
I have a free Zoom account, can I still use this integration?
Yes, you can use a free Zoom account with Continu. However, you will only be able to record up to 40 minutes of video with Zoom's free plan
.
Do all of my users need Zoom Accounts?
No, users can use a free account if they do not currently have a purchased seat on your Zoom plan
.
Why can't I see the Webinar option?
If you can't see the Webinar option or it is greyed out, you will need to contact your Zoom administrator to purchase a Webinar plan for your account.
Can I use Zoom Breakout Rooms?
Yes, if Breakout rooms are enabled on your Zoom account, they will be available to all hosts during the Zoom Meeting.

For Zoom related support, please review Zoom's Support Center.