Admins and managers can assign content and assessments out to their learners manually at any time using the assignment tab under the Admin or Create Menus.
If you would like to automate assignments to users, use the
Workflow
instructions instead.
Step One: Click the Share button on the left hand navigation, then Assignments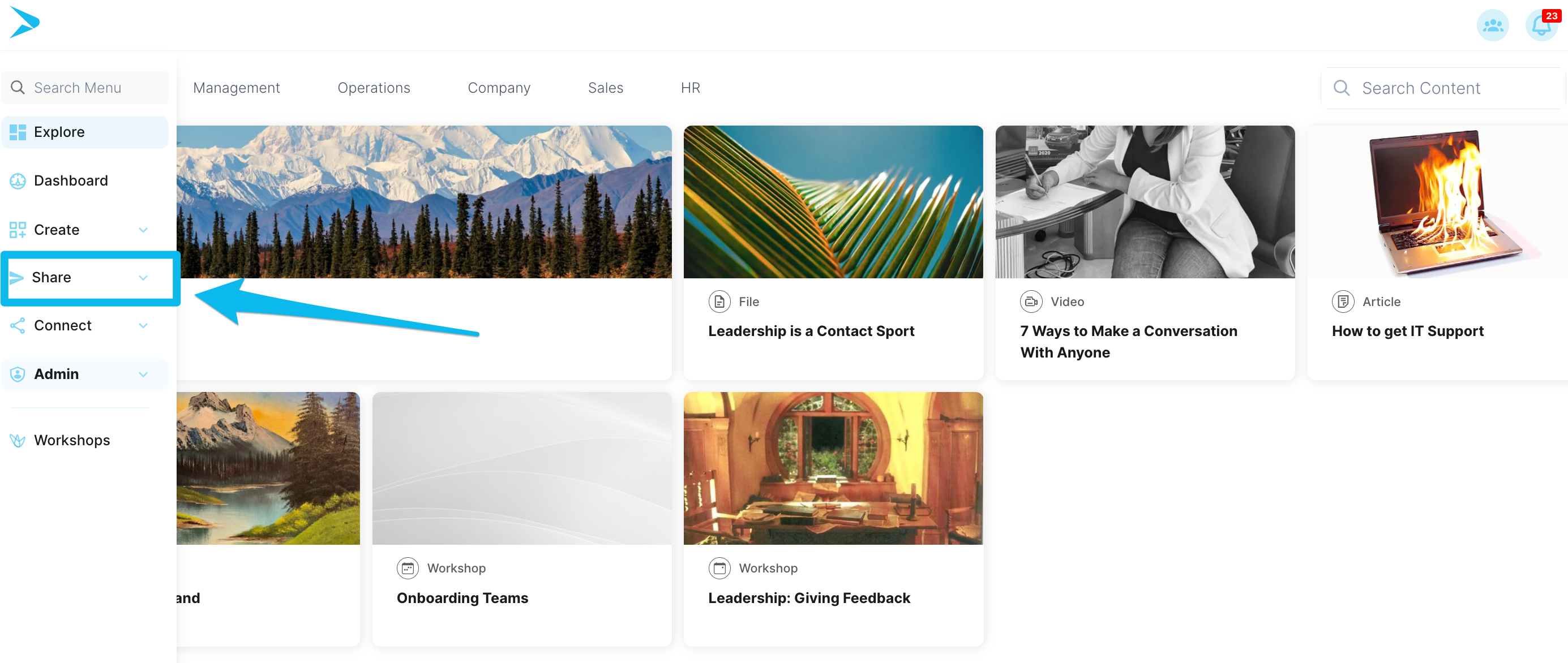 Step Two: Press the +Create Assignment button to open the assignment creation page

Step Four: Search for and select all the content you'd like to be on this assignment by checking off the boxes next to the content name. You can select any published content within Continu. Press next once you've checked off the boxes you'd like to be a part of this assignment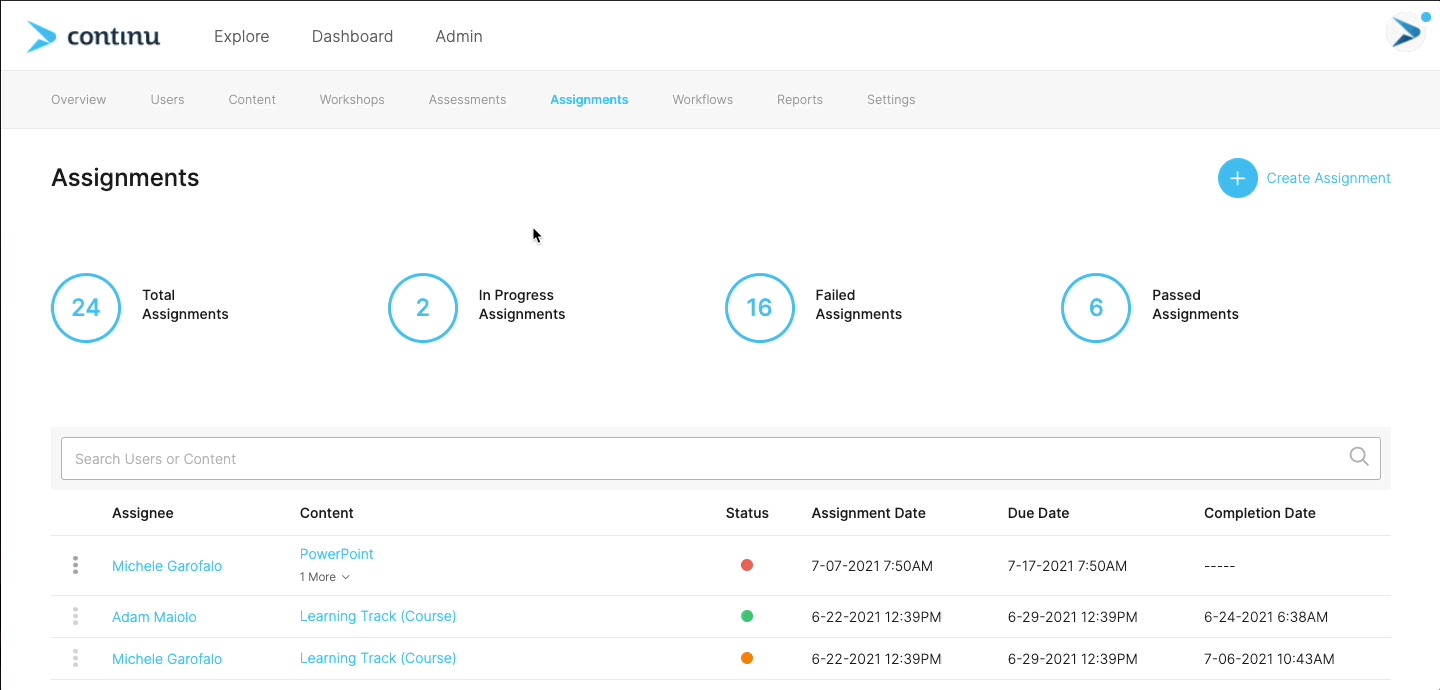 Note: Once a box is checked it will remain on the assignment even when you search for additional content. You can see a running list of content in the box above the search bar.
Step Five: Select the users you want to receive the Assignment. You can either search and add users manually, or use the bulk assignments importer to add a comma-separated list of users to receive the assignment.
Search and Add Users
Search and add users you'd like to assign content. You can add individuals, or add departments, teams, levels, grades, groups, or locations.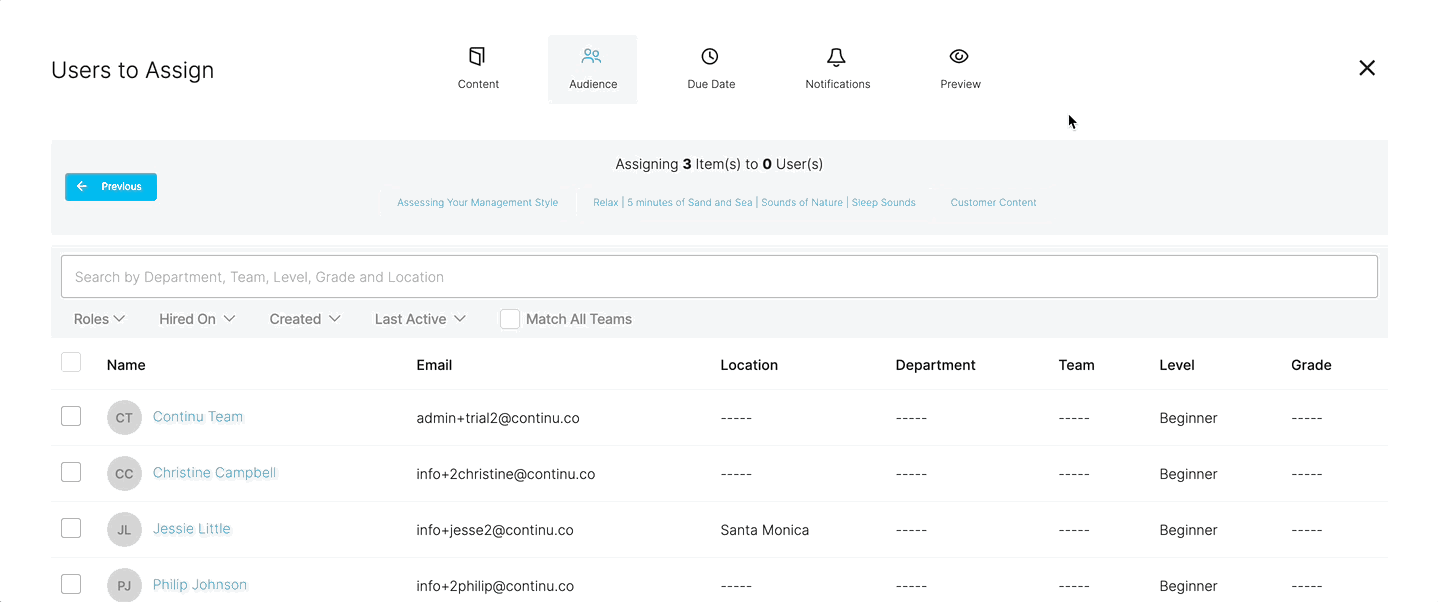 To add all users from a single search, click the Checkbox in the Header Row
If you add multiple teams in your search criteria, and only want to see users that match every single team entered, press the Match All Teams checkbox.
Press next when you've selected all users you would like to add.
Groups
is an add-on feature. If you'd like access to
Groups
, please reach out to our
Sales Team
Bulk Assignments File Importer
The Import File button will allow you to upload a file of comma-separated emails for an assignment. This file can be a .csv, .txt, or .json. All emails must match a user within your instance of Continu, and the emails must come from a .csv spreadsheet column, or have a comma separating every email.
Once you have an appropriate file, you can press the +Import File button on the right side of the search bar.
Select the file you want to import from your Computer and press open.
The emails in your file will now populate as your Audience.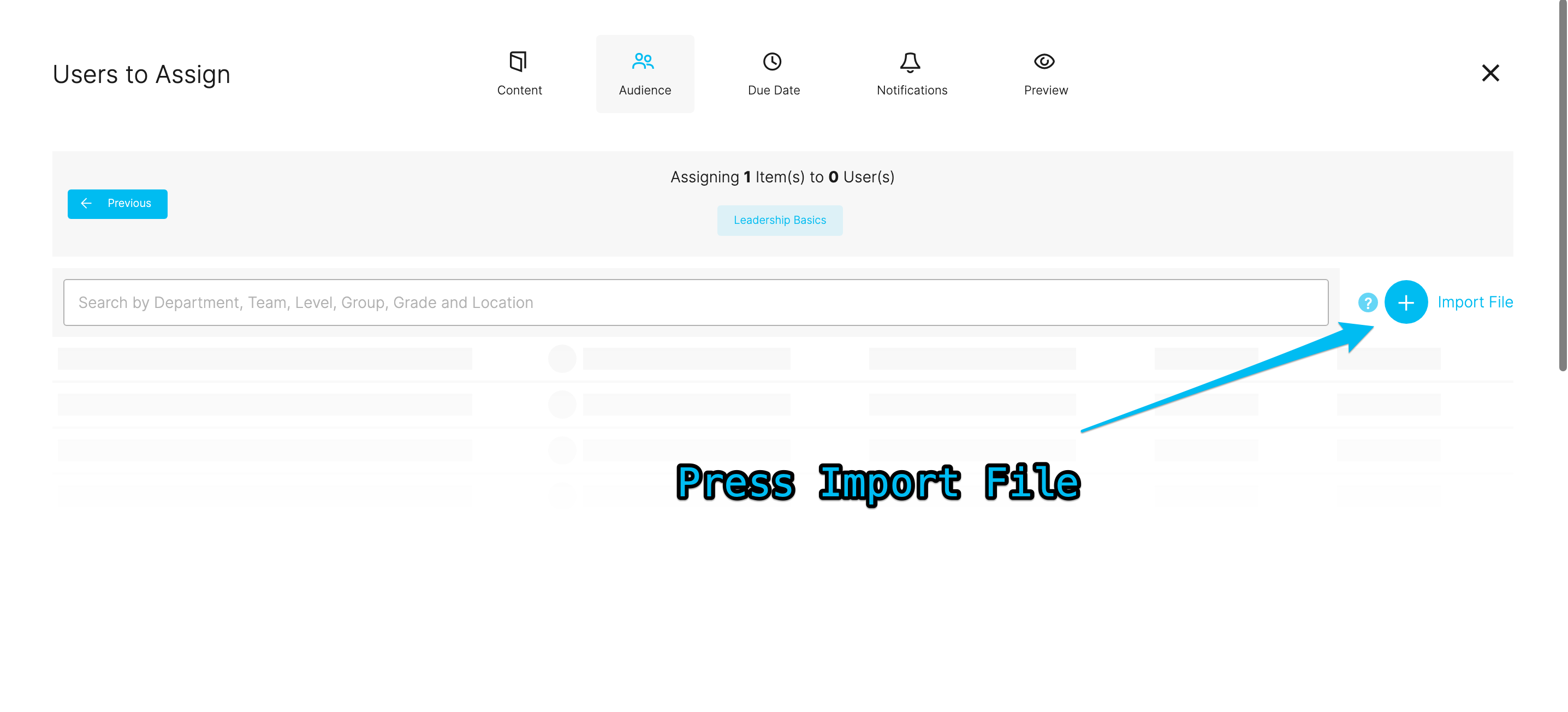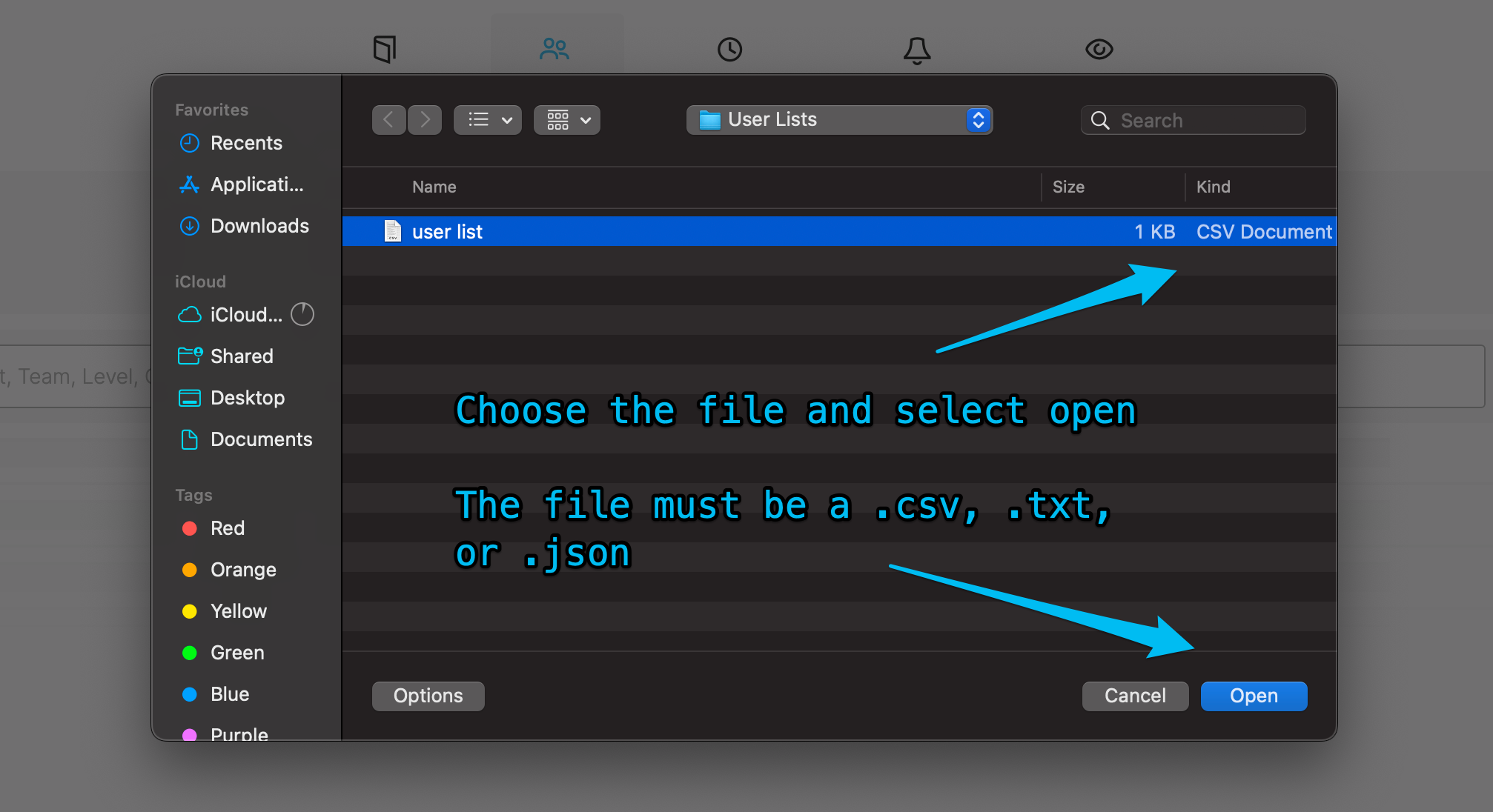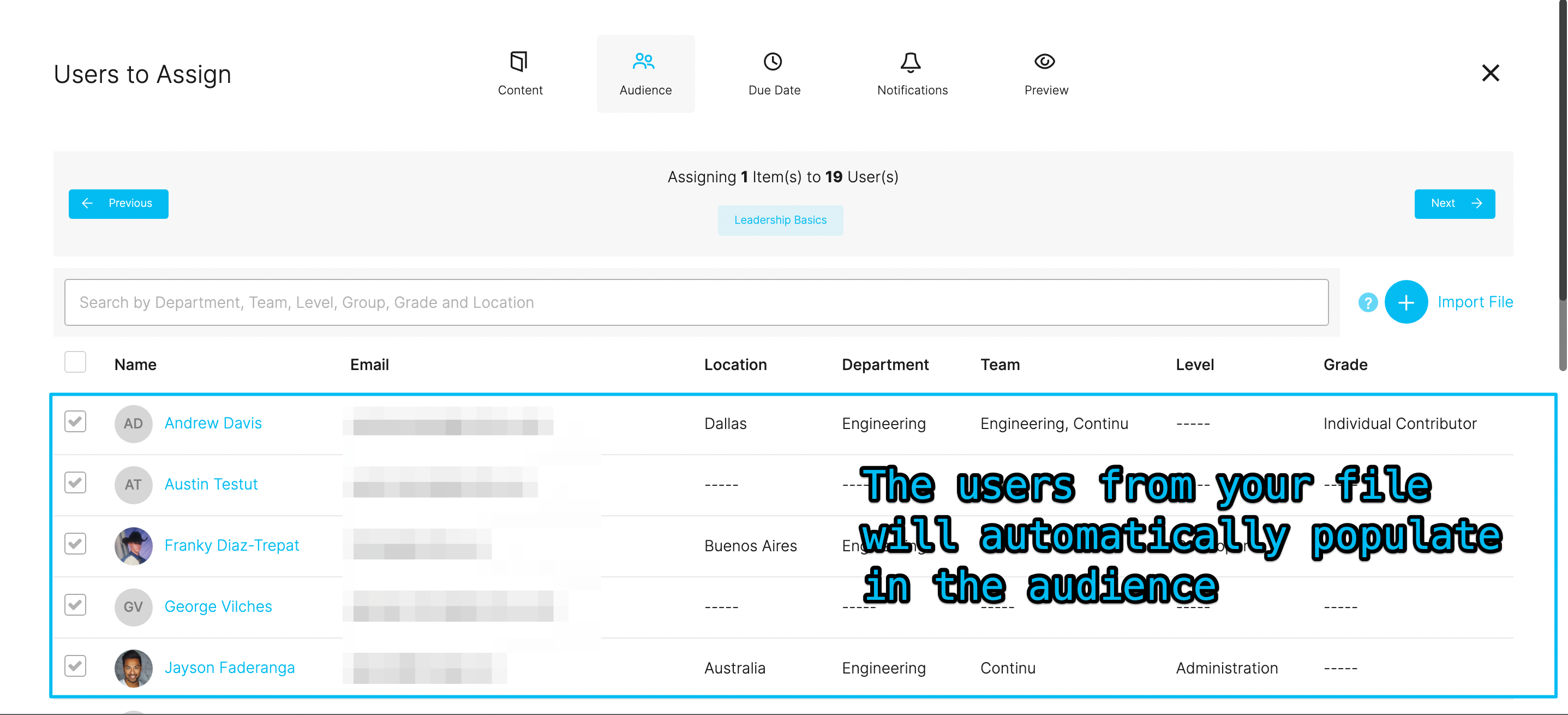 Step Six: From the Due Date menu, you can create a due date for the assignment. You will also be able to create escalation contacts to the learner's manager, buddy, or any custom escalation users. You will be able to generate custom notifications for escalation contacts in Step 7.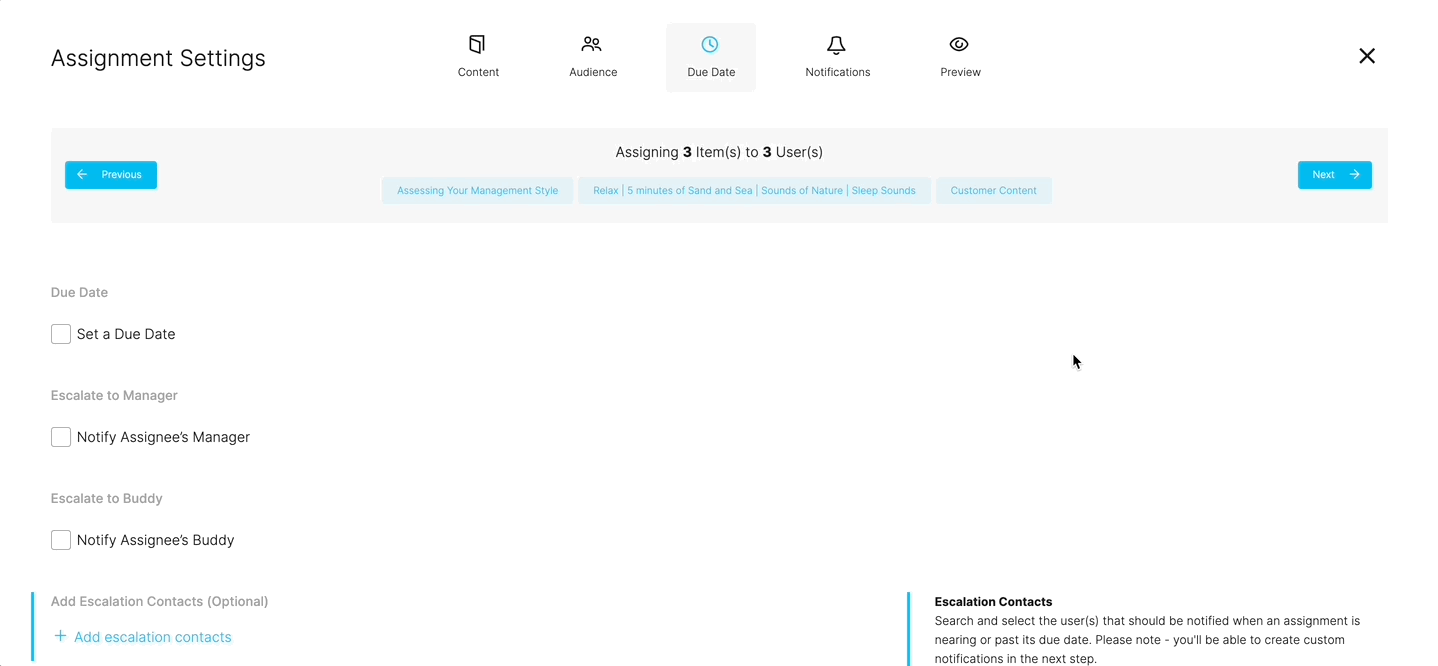 Step Seven: You can create custom notifications for your learners or escalation contacts here. For more information on setting up custom notifications see the Adding Custom Notifications to Assignments and Workflows.
Once you've set up your notifications, click Next.
Step Eight: Your assignment is ready to go out. The preview tab will let you double-check all the content on the assignment, as well as the list of assignees who will receive it. If everything looks correct, press Confirm Assignment and the assignment will be sent to all the selected users